No Fireworks in 2015
Broadbridge Heath Gala Association was established over 25 years ago, when a local resident came up with the idea of establishing a group of like-minded people to run community events in the village.

Over the years, the Gala Association has been involved with organising Barn Dances, Summer Fêtes, Fun Runs and Christmas parties for senior citizens in the village. Up until this year, we held an annual Bonfire and Firework Display on the Saturday closest to 5th November. Starting with the torchlight procession through the village and culminating with a large bonfire and firework display on the area behind the Village Centre, it became established as part of village tradition.

2015 will be the first year since the Gala Association was formed when this event will not take place.
A short fall in finances, lack of people to organise and run the event together with increasing bureaucracy meant that the committee had to take the hard decision that the bonfire and fireworks display could not go ahead this year.

We are hopeful that the event can be reinstated in the village calendar in the not too distant future, but this can only happen if there are people in the village who are prepared to get involved with fund raising and organising events.

If you would like to know more please contact Matt Parker: mparker873@aol.com
---
What we did in 2014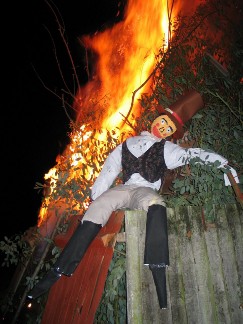 6.30 PM Procession from Sullington Mead

The torchlight procession to the bonfire starts from the green in Sullington Mead (opposite the Shelley Arms) at 6.30pm. Torches are provided for adults to carry. The procession wends its way around the village, collecting people on the way. Duties permitting, vehicles from the local police force and West Sussex Fire & Rescue Service take part in the parade, with sirens and blue flashing lights adding to the atmosphere!

Entrance is £4 for an adult and £3 for a child - family prices are available on the gate. For a display of this size, this is extremely cheap, so please be generous.
We also have some good quality 22" three colour glowie necklaces for £1 each.

Hot Snacks & Drinks, are available on the field, courtesy of Broadbridge Heath Football Club.

---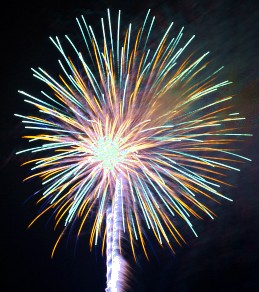 7.00 pm Firework Display at the Village Centre

The display is provided by Aurora Fireworks and is mainly aerial so everyone will get a good view whether you are at the front or back of the crowd.
These are several thousand pounds worth of professional fireworks and always a great selection, with a spectacular finale.

Please note that you are not allowed to bring any of your own fireworks onto the field. Although organised by volunteers who do most of the 'donkey work', this is a professionally run, safe event.

We have insurance in place, have carried out risk assessments and ensure that all spectator areas are fenced off and that the numerous stewards are briefed before the event. A recognised first aid organisation is always present and Aurora Fireworks are an established company who carry out displays, large and small, across the country.


---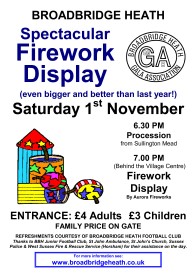 2014 Poster and Flyer
Please download, print out and display this years poster.
Click here
---
This event is organised by the Broadbridge Heath Gala Association and we are always looking for new members to help out. We only meet a few times a year and are a really friendly group.
---